Marie-Pierre St-Onge, PhD
Associate Professor of Nutritional Medicine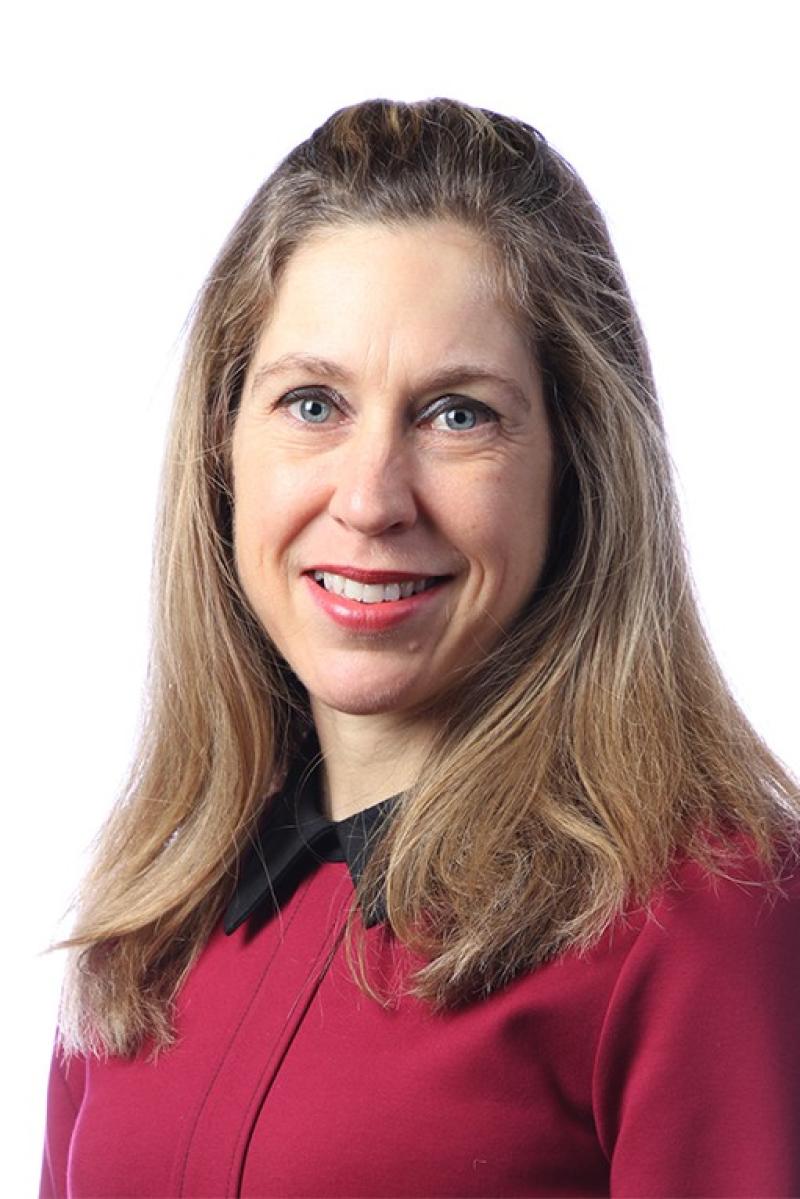 Overview
I completed Bachelor's, Master's, and Ph.D degrees in Human Nutrition at McGill University. My Master's degree thesis focused on the impact of kefir, a fermented milk product, on cholesterol synthesis rates and circulating lipid profile in men with overweight and mild hypercholesterolemia. I developed a passion for research and a strong interest in foods that could influence disease risk factors. I therefore decided to pursue a Ph.D, this time studying the effects of medium chain triglyceride oil consumption on energy expenditure, body composition and cardio-metabolic risk factors in men and women with overweight/obesity. Upon completion of my training at McGill, I joined the New York Obesity Nutrition Research Center and the Institute of Human Nutrition as a Post-Doctoral Fellow to further my knowledge in the area of energy metabolism and body composition.
My first faculty position came within 2 years of starting my fellowship and I joined the faculty of the Department of Nutritional Sciences at the University of Alabama at Birmingham. There, I continued my research on dietary fats, including medium chain triglycerides, and dairy but also encountered colleagues interested in the role of sleep on energy balance regulation. However, it wasn't until my return to Columbia University, in 2007, that I received NIH funding to study sleep and energy balance and my research now focuses greatly on sleep and its association with obesity and cardiometabolic risk factors. Interestingly, we're finding that sleep influences diet and that diet may also influence sleep, bringing me back to my original passion related to foods and their influence on disease risk.
Academic Appointments
Associate Professor of Nutritional Medicine
Administrative Titles
Director, Center of Excellence for Sleep & Circadian Research
Credentials & Experience
Education & Training
MSc, 1999 Nutrition, McGill University, Montreal, Quebec, Canada
PhD, 2003 Nutrition, McGill University, Montreal, Quebec, Canada
Fellowship: 2004 Columbia University, New York, NY
Committees, Societies, Councils
American Heart Association:
Member of the Nutrition Committee, Council on Lifestyle and Cardiometabolic Health
Member of the Science Advisory and Coordinating Committee
Abstract reviewer for Scientific Sessions Annual Meeting and EPI/Lifestyle Scientific Sessions
Sleep Research Society:
Member of the Communications Committee
National Healthy Sleep Awareness Project:
Representative from teh American Heart Assocation
American Society for Nutrition:
Member
Honors & Awards
Honors:
2012 Fellow of the American Heart Association
1997 Golden Key National Honors Society, McGill University
Awards:
2014 Outstanding Reviewer, Appetite journal
2013 Science Unbound Foundation, Best Paper Award, Obesity-Related Research at New York Obesity Research Center
2008 Mark Bieber Award, Council on Nutrition, Physical Activity, and Metabolism, American Heart Association (AHA)
2005 Future Leader Award, International Life Sciences Institute of North America
2004 Science Unbound Foundation, Best Paper Award, Obesity-Related Research at New York Obesity Research Center
Young Investigator Award, American Society for Clinical Nutrition
2003 New Investigator Award, Council on Nutrition, Physical Activity, and Metabolism, AHA
2002 Christine Gagnon Memorial Travel Award, Canadian Society for Nutritional Sciences (CSNS) (also in 1999 and 2001)
Alma Mater Student Travel Award, McGill University
1998 Helen R. Neilsen Scholarship, McGill University
1997 Sally Henry Leadership Award, McGill University
Research
My research is focused on identifying the causality of the association between lifestyle behaviors, such as diet and sleep, and cardio-metabolic risk.
The overall focus of my research is the study of the impact of various dietary and behavioral factors on energy balance. I am most interested in the study of lifestyle behaviors for body weight control and cardiovascular disease prevention. This includes examining the relation between sleep and weight management and cardiometabolic disease risk as well as the effects of functional foods/beverages and food components for weight management and cardiovascular disease risk prevention. I have strong expertise in the conduct of controlled inpatient and outpatient studies of sleep and dietary manipulations. Methods employed in my lab include indirect calorimetry and actigraphy (energy expenditure, physical activity & sleep); magnetic resonance imaging, dual energy X-ray absorptiometry, and computed tomography (body composition); and functional magnetic resonance imaging (neuronal networks involved in appetite regulation and control). I study the impact of lifestyle behaviors on cardiometabolic risk factors such as obesity, dyslipidemia, blood pressure, glucose tolerance and inflammation and on hormones implicated in energy balance regulation, such as leptin, ghrelin, glucagon-like peptide-1, and peptide YY.
Research Interests
dietary fats and cardio metabolic risk
medium chain triglycerides and obesity risk
nuts and cardio metabolic risk
sleep and cardio metabolic risk
sleep and diet
sleep and obesity risk
Selected Publications
Select Publications:
St-Onge MP, Aban I, Bosarge A, Gower B, Hecker KD, Allison DB. Snack chips fried in corn oil alleviate cardiovascular risk factors when substituted for low-fat or high-fat snacks. Am J Clin Nutr 2007;85:1503-1510. PMID:17556685.
St-Onge MP, Bosarge A. A weight loss diet that includes consumption of medium chain triacylglycerol oil leads to a greater rate of weight and fat mass loss compared to olive oil. Am J Clin Nutr 2008;87:621-626. PMID:18326600; PMCID:PMC2874190.
Salinardi TC, Rubin KH, Black RM, St-Onge MP. Coffee mannooligosaccharides, consumed as part of a free-living, weight maintaining diet, increases the proportional reduction in body volume in overweight men. J Nutr 2010;140:1943-1948. PMID:20861211; PMCID:PMC2955875.
St-Onge MP, Roberts AL, Chen J, Kelleman M, O'Keeffe M, Jones PJH, RoyChoudhury A. Short sleep duration increases energy intakes but does not change energy expenditure in normal weight individuals. Am J Clin Nutr, 2011;94:410-416. PMID:21715510; PMCID:PMC3142720.
St-Onge MP, McReynolds A, Trivedi ZB, Roberts AL, Sy M, Hirsch J. Sleep restriction leads to increased activation of brain regions sensitive to food stimuli. Am J Clin Nutr 2012;95:818-824. PMID:22357722; PMCID:PMC3302360.
St-Onge MP, Salinardi T, Rubin KH, Black RM. A weight loss diet that includes a coffee beverage enriched in mannooligosaccharides leads to greater loss of adipose tissue than a placebo beverage in overweight men. Obesity 2012;20:343-348. PMID:21938072; PMCID:PMC3677212.
Mansour MS, Ni YM, Roberts AL, Kelleman M, RoyChoudhury A, St-Onge MP. Ginger consumption enhanced the thermic effect of food and promotes feelings of satiety in overweight men: A preliminary study. Metabolism 2012;61:1347-52. PMID:22538118; PMCID:PMC3408800.
Shechter A, Rising R, Albu J, St-Onge MP. Experimental sleep curtailment causes wake-dependent increases in 24-hour energy expenditure as measured by whole-room indirect calorimetry. Am J Clin Nutr 2013;98:1433-9. PMID:24088722.
Durhandar EJ, Dawson J, Alcorn A, Larsen LH, Thomas E, Cardel M, Bourland AC, Astrup A, St-Onge MP, Hill JO, Apovian CM, Shikany J, Allison DB. The effectiveness of breakfast recommendations on weight loss: A randomized controlled trial. Am J Clin Nutr 2014;100:507-13. PMID:24898236; PMCID:PMC4095657.
Shechter A, St-Onge MP. Delayed sleep timing is associated with low levels of free-living physical activity in normal sleeping adults. Sleep Med 2014;15:1586-9. PMID:25311835; NIHMSID636664.
St-Onge MP, Grandner MA, Brown D, Conroy MB, Jean-Louis G, Coons M, Bhatt DL. Sleep duration and quality: Impact on lifestyle behaviors and cardiometabolic health. A scientific statement from the American Heart Association. Circulation 2016;134:e367-86. PMID:27647451; PMCID:PMC5567876.
St-Onge M-P, Roberts A, Shechter A, RoyChoudhury A. Fiber and saturated fat are associated with sleep arousals and slow wave sleep. J Clin Sleep Med 2016;12:19-24. PMID:26156950; PMCID:PMC4702189.
St-Onge MP, Mikic A, Pietrolungo CE. Effects of diet on sleep quality. Adv Nutr 2016;7:938-49. PMID:276331109; PMCID:PMC5015038.
St-Onge MP, Ard J, Baskin ML, Chiuve SB, Johnson HM, Kris-Etherton P, Varady K. Meal timing and frequency: implications for cardiovascular disease prevention. A scientific statement from the American Heart Association. Circulation 2017;135:e96-e121. PMID:28137935.
Pizinger T, Kovtun K, RoyChoudhury A, Lafferère B, Shechter A, St-Onge M-P. Pilot study of sleep and meal timing effects, independent of sleep duration and food intake, on insulin sensitivity in healthy individuals. Sleep Health, in press.