Career Services and Alumni Career Profiles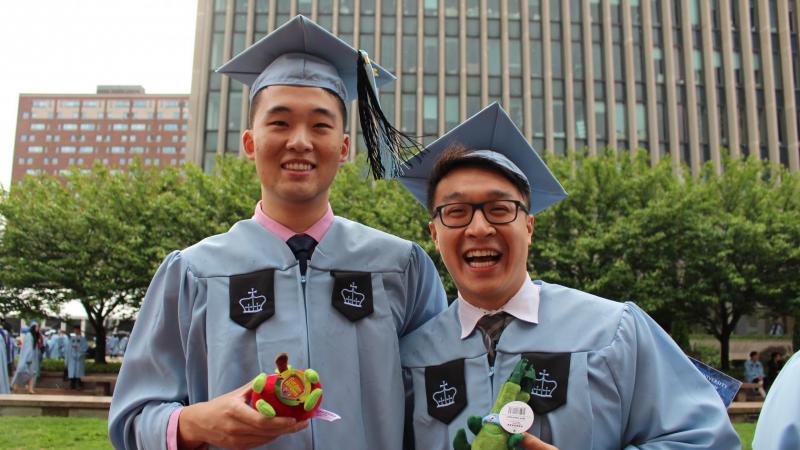 Nutrition plays a critical role in the majority of health issues worldwide; our program prepares students for a broad range of careers addressing this global challenge.
Many of our students continue to careers as doctors, dentists, nurses, registered dietitians, physical therapists, physician assistants, public health workers, researchers, telehealth specialists, and more. Other alumni utilize their nutrition knowledge in journalism, business, and law.
In almost every setting, our alumni are positioned to be advocates for improved health access and affordability, experts in addressing nutrition-related health disparities, and leaders in their respective fields. 
Career Services
We help students discover their strengths while exploring further graduate or professional options by providing a range of support services, including:
Alumni Network Connections
Virtual Career Panels
Individual Career Counseling with a Dedicated Career Advisor
Interview Preparation 
Job and Internship Posting
Medical School Application Support
Medical School-Specific Career Prep Webinar Series
Personal Statement Writing Support
Resume Writing Support
MS Alumni Profiles
Nailah Adams, MD, MS

Undergraduate School: Howard University
Hometown: Trincity, Trinidad and Tobago
Field: Medicine

''Childhood obesity and healthy lifestyles have always been passions of mine. I wanted to be a family medicine and sports medicine doctor to help communities become and stay healthy. Because what we get out of our bodies depends so much on what we put into them, I decided to pursue dedicated training in nutrition so that I could be a better healthcare provider. What stood out to me the most was that for such a prestigious institution, everyone made me feel so welcomed.''

Nailah received her MD degree from Duke University School of Medicine. Shortly after, she began her residency in family medicine at the University of Miami/Jackson Memorial Hospital in Florida. She became a primary care sports medicine fellow at the University of North Carolina, Chapel Hill. Nailah currently works as a family medicine doctor and is an assistant professor at University of North Carolina's School of Family Medicine.

Kelly Ruggles, MS, PhD

Undergraduate School, Major: Cornell University, Biological Engineering
Hometown: Wantagh, New York, USA
Field: Academia

''In addition to influencing my career as a researcher, the IHN program was a wonderful place to learn the ins andouts of higher education. In my current position as Director of Academic Programs in the Sackler Institute of Graduate Biomedical Sciences at NYU School of Medicine, I help run the MS program in Biomedical Informatics and my positive experience with the IHN faculty and their commitment to my education heavily influenced my decision to pursue this career track.''

Kelly is Assistant Professor and Director of Academic Programs at NYU Langone's Department of Medicine. After completing her MS, she pursued her PhD in Nutritional and Metabolic Biology at IHN. Her research focuses on understanding human health and biology through the application of data visualization, integration and modeling. In addition, a portion of her work involves using informatics methods to understand the human microbiome through metagenomics, metatranscriptomics, microbial proteomics, and 16S ribosomal RNA gene sequencing.

Louis N. Formica, DDS, MS

Undergraduate School: New York University
Hometown: Kinnelon, New Jersey, USA
Field: Dentistry

''I love what I do – I create smiles and keep people healthy. Our oral and systemic wellness is largely mediated by our diet and as such, nutrition is an integral part of my daily practice. Whether we are talking about coffee stain, tooth erosion, or managing the effects of diabetes, each of these conversations begins with the foundation the Institute of Human Nutrition has provided me.''

Louis earned his Doctoral Degree in Dental Surgery (DDS) from Virginia Commonwealth University. He works as a dentist at a private practice in Richmond, Virginia.

Joshua Marr, MD, MS

Undergraduate School, Major: SUNY Potsdam, Music
Hometown: Rome, New York, USA
Field: Medicine

''I joined IHN to help me on my path to becoming a doctor and found a group of people passionate about nutrition, health, society, science, and community. At IHN, I first learned about caring for people and developed a passion for learning about medicine and exploring innovative ways to improve their lives. The faculty's passion for teaching is inspiring and their example has made me a better doctor. ''

A true Renaissance man, Joshua, has a background in music, illustration, web design, and teaching, among other things. Prior to joining IHN, he obtained a Master of Music (MM) degree in vocal performance from McGill University. After completing his MS degree, Joshua joined Columbia University's College of Physicians and Surgeons, where he received his MD. He completed his residency in anesthesiology at the New York Presbyterian/Weill Cornell Medical College.

Nathalie Marchand, ScD, MS

Undergraduate School: Wellesley College
Hometown: Webster, New York, USA
Field: Epidemiology

''There are great academic and personal benefits to being a student at IHN. The courses allowed me to investigate the many areas of nutrition that were of interest to me. With exposure to this broad education, I was consequently able to confidently narrow down my interests to the field of nutritional epidemiology. In addition to the academic strengths of the IHN program, the enthusiasm of the staff and professors made my year enjoyable and exciting!''

Nathalie completed her doctoral degree (ScD) in nutritional epidemiology at Harvard's T.H. Chan School of Public Health, conducting the kind of nutrition research that interests her.

Lili Mercer, PhD, MS

Field: Healthcare Technology

Undergraduate School, Major: Villanova University, Psychology
Hometown: Chatham, New Jersey, USA
Field: Healthcare Technology

''No single academic experience has influenced my career more than IHN. Though it was short, my time at IHN was incredibly valuable in expanding my knowledge on the state of health in this country and all over the world. In just one year, I was taught to think outside the box and I was inspired to drive positive change in our health system. Since graduation, IHN has quietly directed me to each new step in my career, and I am certain that it will continue to influence my path in the future.''

After receiving her MS, Lili completed her PhD in Nutritional and Metabolic Biology at the IHN.

Lili works as an account executive at Health Recovery Solutions, a healthcare technology company that delivers remote patient monitoring software to patients nationwide. She contributes to the progress of the healthcare system by making healthcare more accessible, efficient, and affordable.

Kasey Faulkner, RN, MSN, MS

Undergraduate School, Major: University of Miami, Neuroscience
Field: Nursing

Kasey completed her masters in Family Practice Nurse/Nursing at Johns Hopkins School of Nursing. Prior to joining IHN, she was a research assistant with the LIFT (Lifestyle Intervention for Two) Study at Mount Sinai St. Luke's and Mount Sinai Roosevelt. The study aimed to determine if nutritional and fitness intervention helped women stay within the Institute of Medicine guidelines for weight gain during pregnancy. They also studied if staying within these guidelines influenced the baby's health, specifically looking at the baby's body composition, and if this helped the mother to return to her pre-pregnancy weight. Kasey had several roles during this study including: recruitment, data collection, and delivering the intervention.

Kasey is currently a labor and delivery nurse at Georgetown University Hospital.

Marissa Hammer, PA, MS

Field: Physicians Assistant

Undergraduate School, Major: Cornell University, Human Biology, Health, and Society
Field: Physicians Assistant

Marissa has always had a passion for nutrition and gastroenterology and decided to do her thesis research on celiac disease. While working in the pediatric GI clinic at CUIMC, she got involved in lactose intolerance, fructose intolerance, and SIBO and was also able to shadow the attending pediatric GI on rounds and during procedures. It was during this time that Marissa decided the right path for her was to become a Physician Assistant (PA). She attended PA school at Weill Cornell and loved it! Her long-term goals are to work in Pediatric GI and Dermatology which, as a PA, she is able to specialize in.

Kayla Reynolds, MS

Undergraduate School, Major: McGill University, Biology
Field: Marketing

Kayla is Director of Curriculum and Content Marketing at Noom, Inc. She oversees the development of clinically sound curricula targeting various pre-chronic and chronic conditions including diabetes, hypertension, obesity, and more. Each curriculum promotes general healthy behaviors including physical activity, sleep, and stress management, as well as condition-specific dietary and self monitoring behaviors. In addition, she is responsible for writing each curriculum, which includes articles to educate users and challenges to promote behavior change. Kayla is also involved in the company's Nutrition Summit, which guides the company's nutrition objectives and dietary recommendations.

Alexander H. Vu, MD, MS

Unergraduate School: UC San Diego
Hometown: Irvine, California
Field: Medicine

''Attending IHN gave me the baseline fund of knowledge required to explore nutrition and its most relevant, contemporary topics. IHN also provided the professional skills and the ability to critically analyze and produce scientific papers fit for publication. IHN also provided me several career opportunities, and with its fantastic staff and mentors, successfully supported me through the medical school application process.''

Alex completed his MD at Columbia University's College of Physicians and Surgeons and is in his surgery residency at NYU. His interests include medical nutrition, medical humanities, and rock climbing.

Kevin A. Lie, JD, MS

Undergraduate School, Major: University of Minnesota, Neuroscience
Hometown: Jakarta, Indonesia
Field: Law

"The IHN Master's program in Nutrition Science gave me the opportunity to do extensive research on subjects I am passionate about, and the flexible research schedule allotted me time to study for my Law School Admissions exam."

Kevin graduated from the University of Minnesota with degrees in Psychology, Philosophy, and Neuroscience. While at the IHN, Kevin worked with Dr. Yian Gu studying the impact of coffee, tea, and sleep in relation to dementia risk. Kevin completed his J.D. at Harvard Law School. His experiences at the IHN continue to prove useful throughout his career.

Michael Mendelsohn, MS

Undergraduate School, Major: Virginai Tech, Human Nutrition, Foods and Exercise
Hometown: Sea Cliff, New York
Field: Research

"The IHN MS program was instrumental in helping me get to the point I am at today. It provided me with the scaffold I needed to advance my research capabilities in basic science while also teaching me the lessons needed to mature as a scientist. The MS program helped instill in me a love for metabolism that furthered my passion of researching metabolic reprogramming in various disease states."

Michael worked with Dr. Helen Causon studying the autophagy feature of the yeast metabolic cycle. He is currently working for Molecular Devices as a BioResearch Field Application Scientist.

Victoria Scarpa, DDS, MS

Undergraduate School, Major: University of North Carolina, Chemistry and French
Hometown: North Wilkesboro, North Carolina
Field: Dentistry

"It was the IHN that taught me about the integrative nature of medicine and the importance of evidence-based healthcare. I was given the opportunity to do research with an incredible mentor who guided me in developing a skillset which I use every day. The coursework I had in the program has been incredibly helpful in dental school and I am thankful for nutrition training that I would not have gotten otherwise. The IHN introduced me to fields I never thought I would step into and taught me to be comfortable being uncomfortable."

Victoria graduated from the University of North Carolina at Chapel Hill with degrees in Chemistry and French. While at the IHN from, she worked in Dr. Mildred Embree's TMJ Biology and Regenerative Medicine lab. Her thesis project was focused on understanding the molecular mechanisms controlling joint degeneration in musculoskeletal disease and how stem cell therapy can be transformational in treating TMJ disorders. Victoria completed her DDS at NYU College of Dentistry. She continues to be amazed by the impact her experiences at the IHN have on the progression of her career in dentistry.