Thesis Research Opportunities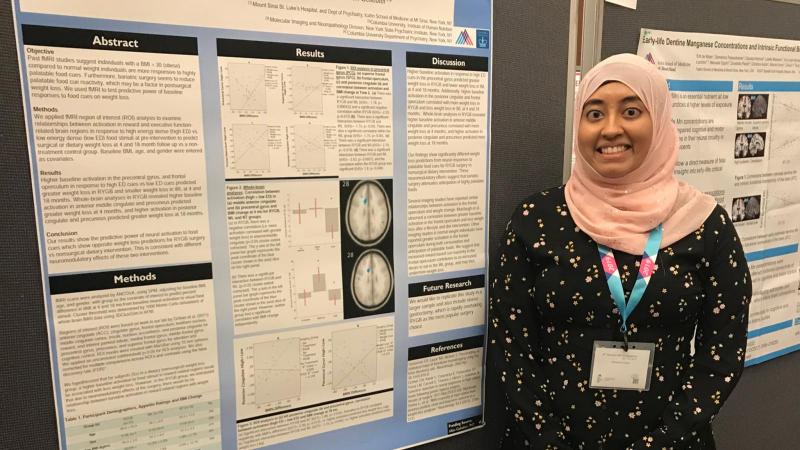 Our students can select a thesis research setting in basic science, clinical nutrition, or public health nutrition. We provide students with a list of available thesis mentors during the fall term and request that students do not seek a thesis mentor ahead of beginning the program. Thesis mentors are available from over 25 departments within Columbia University Irving Medical Center and affiliated institutions. View an outline of how the master's thesis fits into the one-year MS program on our Curriculum page.
Select Research Projects
Role of Dopamine Receptor D2 in Modulating Glucose Stimulated Insulin Secretion
Student: Zachary Farino
Mentor: Zachary Freyberg, MD, PhD

The Influence of Bile Acid and Gut Microbiota In Diabetes Remission after Gastric Bypass Surgery
Student: Justin Yu
Mentor: Blandine Laferrere, MD

Development of an HPLC Assay to Measure Antibiotic Clearance in Patients on CRRT
Student: Spenser Souza
Mentor: Michael T. Yin, MD

Markers of Celiac Disease and Immune Reactivity to Gluten in Response to the Use of Proton Pump Inhibitors
Student: Sophie Jang
Mentor: Armin Alaedini, PhD

fMRI processing of Visual and Auditory Food Stimuli pre and post Roux-en-Y Gastric Bypass (RYGB) and Sleeve Gastrectomy (SG)
Student: Shiva Kothari
Mentor: Allan Geliebter, PhD
On Language Development in Preterm Infants and the Influence of the NICU Auditory Environment on Vital Signs
Student: Shaheen Malick
Mentor: Martha Welch, MD

The Anti-Inflammatory Effects of Exercise and Peanut Consumption
Student: Sarah Al-Sudairy
Mentor: Richard Sloan, PhD

A Biofeedback Intervention to treat Pediatric Migraine and Improve Quality of Life
Student: Nicole Asante
Mentor: Karen McKearney, NP

The Effects of Shift Work on Food Intake Regulation
Student: Nicole Carpio
Mentor: Ari Shechter, PhD

The Effect of Maternal Antibiotic Treatment on Infant Brain Development
Student: Deepika Chandra
Mentor: Esi Lamouse-Smith, MD

The Effect of Long-term Sleep Deprivation on Dietary Habits and Appetite-regulating Hormone Levels​
Student: Jing Luo
Mentor: Marie-Pierre St-Onge, PhD
Dietary Patterns of school-aged children in Johannesburg, South Africa
Student: Samantha Kozakowski
Mentor: Stephen M. Arpadi, MD

The Potential of Medicinal and Aromatic Plants in Mitigating Non-Communicable Diseases in the Nepalese Urban Population
Student: Mahima Dhume
Mentor: Jessica Fanzo, PhD

The First Bite Challenge – Can Social Media Make Healthful, Unfamiliar Foods More Palatable to More Adolescents?
Student: Ailin Liu
Mentor: Lynn Fredericks

The Influence of Interactive Educational Materials on Reducing Childhood Obesity and Promoting Healthy Lifestyle Habits Among a Population
Student: Taylor Konstan
Mentor: Emma Hulse, MS, RD

Designing for Wellbeing: Development of a Tool to Enhance Human Health Through the Workplace Built Environment
Student: Kate Workman
Mentor: Deborah Ndao, MPH
Travel Awards
Every year, we award a small number of student travel grants to support attendance to national and international conferences, professional meetings, and symposia. Our students present their thesis research findings, or attend as part of their ongoing research. Typically, students present at regional or national conferences, and publishing their research work is a successful corollary.
The Effect of Thermal Biofeedback on Migraine, Disability, and Quality of Life in an Underserved Pediatric Neurology Population
Jessica Xu
International Society of Neurofeedback and Research Conference, 2019

Post-stroke Sleep Duration and Quality are Associated with Depression
Emily Qiu
SLEEP, 2019

The Great Breastmilk Discrepancy: A Look at Exposure Amongst Patients with Esophageal Atresia/Tracheosophageal Fistula
William Haug
North American Society for Pediatric Gastroenterology, Hepatology and Nutrition (NASPGHAN) Annual Meeting, 2019

Predicting Weight Loss After Roux-en-Y Gastric Bypass (RYGB) vs. Caloric Restriction
Sumiyah Enayet
Translational and Molecular Imaging Institute (TMII) 9th Annual Symposium, 2019

Weight Cycling is Associated with Poorer Cardiovascular Health Assessed Using AHA's Life's Simple 7 in a Diverse Sample of Women Encompassing Different Life Stages
Stepahnie Byun
American Heart Association (AHA) Epidemiology and Lifestyle Scientific Sessions, 2019

The Prevalence of Co-morbidities in Adult and Adolescents Seeking Sleeve Gastrectomy
Julie W. Liu
Obesity Week, 2018

Neuronal Serotonin as a Link Between Depression and Serotonin and a Role for Simultaneous Treatment with a Novel Slow-release Formulation of the Serotonin Precursor, 5-hydroxytryptophan
Andrew Del Colle Jr.
Digestive Disease Week, 2018

Evaluating the Relationship Between Type 2 Diabetes and Inflammatory Biomarkers of Patients Receiving Bariatric Surgery
Kapila Patel
Global Health and Innovation Conference, 2017

Effect of Food Order on Postprandial Glucose Excursions in Prediabetes
Morgan Dickison
Obesity Week, 2017

Micronutrient Variation Between Fruit and Vegetables
Nicoleta de Deugd
American College of Nutrition (ACN) 58th Annual Conference, Disrupting Cancer: The Role of Personalized Nutrition, 2017
Publications
Manuscripts are published regularly in peer reviewed academic journals across the medical and scientific fields. Besides demonstrating their abilities in writing, research methodology, and data collection and analysis, publications are a highly-desired output of competitive students and professionals.
Skeletal muscle and adipose tissue changes in the first phase of treatment of pediatric solid tumors.
Grace Shadid
Cancer Med. 2020
Perspective: US Documentation and Regulation of Human Nutrition Randomized Controlled Trials.
Sue Shapses
Adv Nutr. 2020
Nutrition and Sarcopenia - What do we know?
Aravinda Ganapathy
Nutrients. 2020
Preoperative liking and wanting for sweet beverages as predictors of body weight loss after Roux-en-Y gastric bypass and sleeve gastrectomy.​
Jeon Hamm
J Obes (Lond). 2020
Low-calorie sweeteners cause only limited metabolic effects in mice.​
Anna Ortiz
Comp Physiol. 2020
Quantity, Quality, and Timing of Carbohydrate Intake and Blood Pressure
Stephanie Byun and Zara Mayat
Curr Nutr Rep. 2019

Associations of Weight Cycling with Cardiovascular Health Using American Heart Association's Life's Simple 7 in a Diverse Sample of Women
Stephanie Byun
Prev Med Rep. 2019

Effects of Serotonin and Slow-release 5-HTP on Gastrointestinal Motility in a Mouse Model of Depression
Narek Israelyan, Albert Xing, Yeji Park, and Andrew Del Colle
Gastroenterology. 2019

Markers of Non-coeliac Wheat Sensitivity in Patients with Myalgic Encephalomyelitis/Chronic Fatigue Syndrome
Bella Yu
Gut. 2018

Autoantibodies in the Extraintestinal Manifestations of Celiac Disease
Bella Yu
Nutrients. 2018

The Impact of Food Order on Postprandial Glycemic Excursions in Prediabetes
Morgan Dickison and Natasha Coughlin
Diabetes Obes Metab. 2108

Positive Psychosocial Factors and Cognition in Ethnically Diverse Older Adults
Sonia Seehra
J Int Neuropsychol Soc. 2018

Translation of CRISPR Genome Surgery to the Bedside for Retinal Diseases
Galaxy Cho
Front Cell Dev Biol. 2018

Inhibition of NADPH Oxidase 2 (NOX2) Prevents Sepsis-induced Cardiomyopathy by Improving Calcium Handling and Mitochondiral Function
Grace Kim
JCI Insight. 2017

Effects of Diet on Sleep Quality
Anja Mikic
Adv Nutr. 2016