MS Program Faculty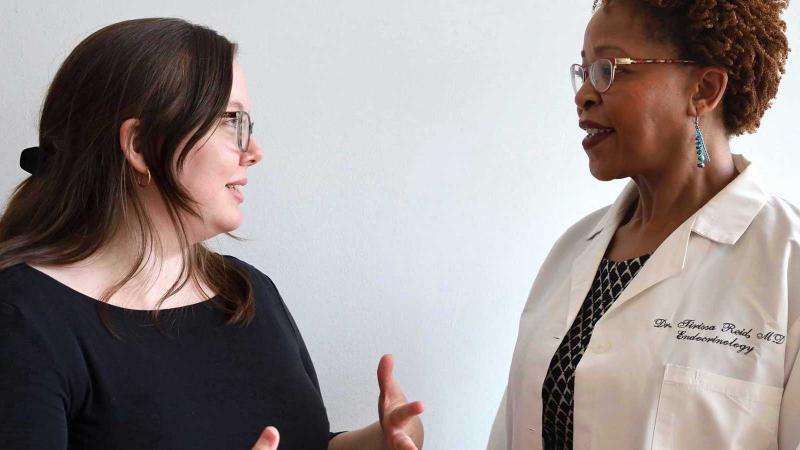 Each year, our core teaching faculty are joined by adjunct faculty and guest lecturers who are at the top of their fields to bring you a world-class, cutting-edge education. 
Brooke Aggarwal, EdD, MS, FAHA

Assistant Professor of Medical Sciences

Dr. Brooke Aggarwal is an Assistant Professor of Medical Sciences in the Division of Cardiology, Department of Medicine at Columbia University Medical Center. As a behavioral scientist and clinical health education specialist, her program of research focuses on the impact of behavioral and psychosocial factors on adherence to cardiovascular disease prevention guidelines, and the application of novel educational strategies to improve lifestyle behaviors.

Bryan J. González, PhD

Instructor of Biochemistry

Bryan J. González is the Course Director of Biochemistry at the Institute of Human Nutrition at Columbia University. He received his MSc in Medical Biology from the University of Lausanne and his Ph.D. in Nutritional and Metabolic Biology from Columbia University. As a faculty member in the IHN MS program, Dr. Gonzalez teaches courses on Biochemistry. His doctoral and post-doctoral research in Dr. Egli's and Dr. Leibel's lab focused on the genetics of diabetes and using stem cells for tissue engineering and regenerative medicine. He is currently the Principal Scientist at Fork and Good, where his research group focuses on developing cell lines through gene editing to make cultivated meat for a sustainable future.

Kim Hekimian, PhD

MS Program Director, Assistant Professor of Nutrition

Kim Hekimian, PhD is the Director of the MS Program and Assistant Professor of Nutrition (in Pediatrics and the Institute of Human Nutrition) at Columbia University. She teaches public health nutrition, survey research, qualitative methods, and research methods. She is also the Associate Director of Education for the Program for Global and Population Health at the Vagelos College of Physicians and Surgeons and was recently the Associate Director of the Medical Nutrition Program for Health Professionals at the IHN.

Before joining Columbia University, she taught at the American University of Armenia's College of Health Sciences where she was the Associate Director of the MPH Program and Director of the Center for Health Services Research and Development. She consults for international health projects and has worked for USAID, UNICEF, World Vision and the World Bank among others.

Moneek Madra, PhD

MS Program Associate Director, Assistant Professor of Nutrition

Moneek Madra is the MS Program Associate Director, and Assistant Professor of Nutrition at the Institute of Human Nutrition and the Department of Pediatrics. She received her BS degree from University of Windsor in Biology, her MS from Columbia University in Human Nutrition, and her Ph.D. from Columbia University in Nutritional & Metabolic Biology. As a faculty member in the IHN MS program she teaches courses on Physiology & Nutrition through the Lifecycle and Research Methods. She is also responsible for the coordination the MS thesis process. Her PhD studies focused on the development of a novel mouse model of Anorexia Nervosa used to identify the triggers and potential therapeutic targets of the disease. She is currently a member of Kara Gross-Margolis' research group where she focuses on the role of serotonin in the development of irritable bowel disease.

Jeri Nieves, PhD

Associate Professor of Clinical Epidemiology

Dr. Jeri Wanzor Nieves is a Professor of Clinical Epidemiology and Nutrition at Columbia University in the Mailman School of Public Health and the Institute of Human Nutrition. At Hospital for Special Surgery in New York, she is a Senior Research Scientist working on the clinical research program. She is the Principal Investigator on an NIH grant to evaluate pelvic fracture healing. Dr. Nieves has co-authored over 150 journal articles, reviews, and book chapters on osteoporosis, nutrition, and epidemiology. Dr. Nieves' research has focused on various aspects of bone health and osteoporosis including peak bone mass, stress fractures, vitamin D, anabolic and antiresoptive treatments, quality control of DXA, and fracture healing. In addition, her research includes aspects of nutritional epidemiology and determining the role of nutrition in various disease states. Dr. Nieves is a recipient of grants from the Department of Defense and the National Institute of Health and an editor of Osteoporosis International.

Joseph A Picoraro, MD

Assistant Professor of Pediatrics

I am a pediatric gastroenterologist who strives to provide comprehensive care for children in the context of their families. I specialize in conditions that affect the gastrointestinal (GI) tract, including inflammatory bowel disease (IBD)—both Crohn's disease and ulcerative colitis—and eosinophilic esophagitis and eosinophilic GI diseases.

As associate director of the Pediatric IBD Center at Columbia and director of Pediatric GI Inpatient Services at NewYork-Presbyterian Morgan Stanley Children's Hospital, I collaborate with a team of experts who regularly tackle the most unique and complex challenges in medicine.

I am naturally an educator, of children and families and also of medical students, residents, and fellows. As associate course director of Foundations in Clinical Medicine – Tutorials course at Columbia University Vagelos College of Physicians and Surgeons, I help train future doctors.

Sekhar Ramakrishnan, EngScD

Senior Research Scientist

My research activities are in applying biostatistics and biomathematics to clinical research projects inside and outside the Department of Pediatrics. I also run a clinical research elective, taken by nearly all second year pediatrics residents, to help them finalize their resident research project proposals from the viewpoint of power analysis, and also to teach them statistical tools to help them be self-sufficient. I also teach in a Master of Science program in the Institute of Human Nutrition at the medical center.

Tirissa J Reid, MD

Associate Professor of Medicine

Dr. Reid is a physician at the Metabolic and Weight Control Center. She completed her medical training and internship/residency at the Albert Einstein College of Medicine-Montefiore Medical Center (Bronx, NY). She received her training in Endocrinology, Diabetes and Metabolism at Columbia University and is board-certified in the field. Her clinical practice focuses on assisting patients in meeting their weight and health goals using lifestyle and/or medical interventions. Her research interests include changes in hormones and weight-related comorbidities after medical and surgical weight loss, as well as the development of interventions to decrease weight bias in medical students and clinicians. Dr. Reid is a Diplomate of the American Board of Obesity Medicine (ABOM) and serves on the ABOM Board of Directors.

Ari Shechter, PhD

Professor of Medical Sciences

Dr. Shechter is Assistant Professor of Medical Sciences at Columbia University Irving Medical Center. His current research at CBCH focuses on how sleep and circadian rhythm disturbance, as a result of pathophysiologic states and lifestyle/behaviors, affects cardiometabolic and psychological outcomes. He is also interested in the impact of chronotherapeutic interventions and the light environment on sleep and mood.

Aviva Sopher, MD, MS

Assistant Professor of Pediatrics

I am a pediatric endocrinologist with interests that include polycysytic ovary syndrome (PCOS), bone health, disorders of puberty, thyroid disorders, pituitary disorders and growth disorders. In addition to my training in pediatrics and pediatric endocrinology, I have Master of Science degrees in Nutrition (1999) and in Patient Oriented Research (2014) and have completed a research fellowship at the Body Composition Unit of Columbia University Medical Center (2003). I comleted the TRANSFORM KL2 program sponsored by the Irving Institute of Clinical and Translational Research, a mentored career development program.

Faris M. Zuraikat, PhD

Associate Research Scientist

Dr. Faris M. Zuraikat is an Associate Research Scientist in the Division of General Medicine at Columbia University Irving Medical Center (CUIMC). He obtained his PhD in Nutritional Sciences at Penn State University, where he trained with Dr. Barbara J. Rolls to develop expertise in studying human ingestive behaviors. He completed AHA- and NIH-funded postdoctoral fellowships in sleep and circadian sciences and preventive cardiology research at CUIMC under the primary mentorship of Dr. Marie-Pierre St-Onge. Dr. Zuraikat is a clinical trialist specializing in lifestyle influences on cardiometabolic health. He is particularly interested in the interplay of diet and sleep in determining obesity and cardiovascular disease risk and aims to leverage these behaviors to improve prevention and treatment strategies for cardiometabolic diseases.